Argan oil has been used for centuries by Berber women for hair and skin care.
It is produced from the almond kernels of the argan tree, which also earns the name of Moroccan oil or Argan oil.
It is so rich in fatty acid, vitamin E, A and many antioxidants that it is sometimes referred to as liquid gold, hence its inscription on the UNESCO World Heritage Site. Argan oil is a real treasure of nature provided it is of good quality. Choose a 100% vegetable Argan oil, unrefined, cold extracted, non-deodorized and stored in an amber bottle for maximum efficiency. You will enjoy the many benefits of organic Argan oil to sublimate your hair and skin.
Use of pure argan oil in masks or oil baths
Argan oil as a mask is a magical treatment to deeply nourish dry or damaged hair. An unparalleled beauty asset, it allows them to both strengthen them and bring them radiance both by restructuring and softening the hair fiber and by providing them with several essential vitamins. Thanks to its unique composition very rich in vitamin E and omega 6, argan oil will bring you a visible result in just a few weeks. See our express recipes below.
Use in your recipes & home cosmetics
Argan oil fits perfectly into the composition of your homemade cosmetics recipes (see our mini recipes below):
* Your shampoo : (dosage between 2% and 5%). Add and mix directly in your own shampoo.
* Your hair mask : (dosage between 10% and 100%).
Add and mix directly in your own mask
Why use argan oil on the face?
Are you looking for an oil with powerful firming, protective and anti-aging properties? Argan oil is the one you need! Its exceptional composition, rich in fatty acids and antioxidants, makes it one of the most effective care oils for the beauty of mature skin. Dry and damaged skin will also appreciate it for its regenerating, nourishing and healing benefits.
How to use argan oil on the face and skin?
You can take advantage of the power and benefits of argan oil to take care of your hair in different ways.
Pure use, directly on the face and skin
Argan oil can perfectly be applied pure to the face, regardless of your skin type. With just a few drops to apply to clean skin, you will enjoy its many benefits and all their power. Fatty acids, antioxidants, vitamin E and A are all exceptional components, concentrated in pure argan oil, which contribute to the balance of your skin. See our express recipes (below).
Use mixed with other vegetable oils
Do you want to multiply the benefits of argan oil? Combine it with another vegetable oil with different and complementary properties! For example, if you want a care for your fine lines but your skin tends to grease, combine argan with jojoba oil with a drier touch and properties capable of regulating sebum production.
Argan oil for the creation of all your home cosmetics
Antioxidant, regenerating and firming, argan oil is a real little treasure to integrate into your cosmetics for mature, dry and in need of care:
* Anti-aging serums
* Beauty oils for the face
* Nourishing serums
* Make-up removers for the face or eyes
* Night mask
* Day or night creams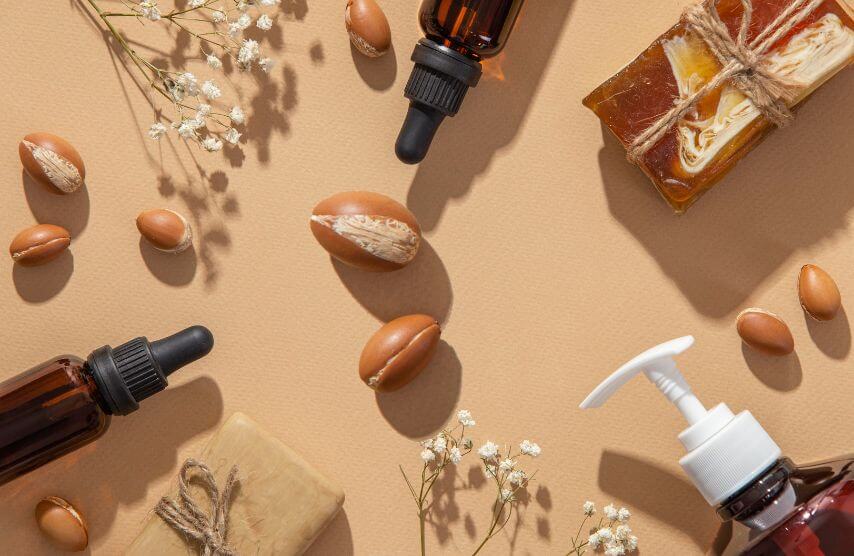 Argan oil for whom and for what skin types?
Argan oil, although it can be perfectly used by all skin types, is particularly suitable if:
• Your skin is mature or wrinkled
• Your skin is dry or very dry
• You have problems with cracks, burns, acne and chickenpox scars.
Comments (0)